Location
Cwmbran, South Wales
Services Undertaken
Crane ChemPharma & Energy is an international operation that design and manufacture high performance and cutting edge process flow technology solutions for several industries, including pharma tech, oil refinery, industrial and many more applications. Crane originally founded in 1855, in 2001 acquired Saunders® whose founder P.K Saunders invented the diaphragm valve in 1933 which revolutionised the process flow industry and continues to do so today. To mark the 90th Anniversary of the founding of Saunders®, Crane commissioned a new state of the art facility situated in the companies founding town—Cwmbran, despite being a global corporation. Crane approached Sauce to deliver a robust signage and display strategy across the entirety of the interiors and exterior of the impressive 9,770m² facility that houses, offices, visitor experiences and production and research facilities.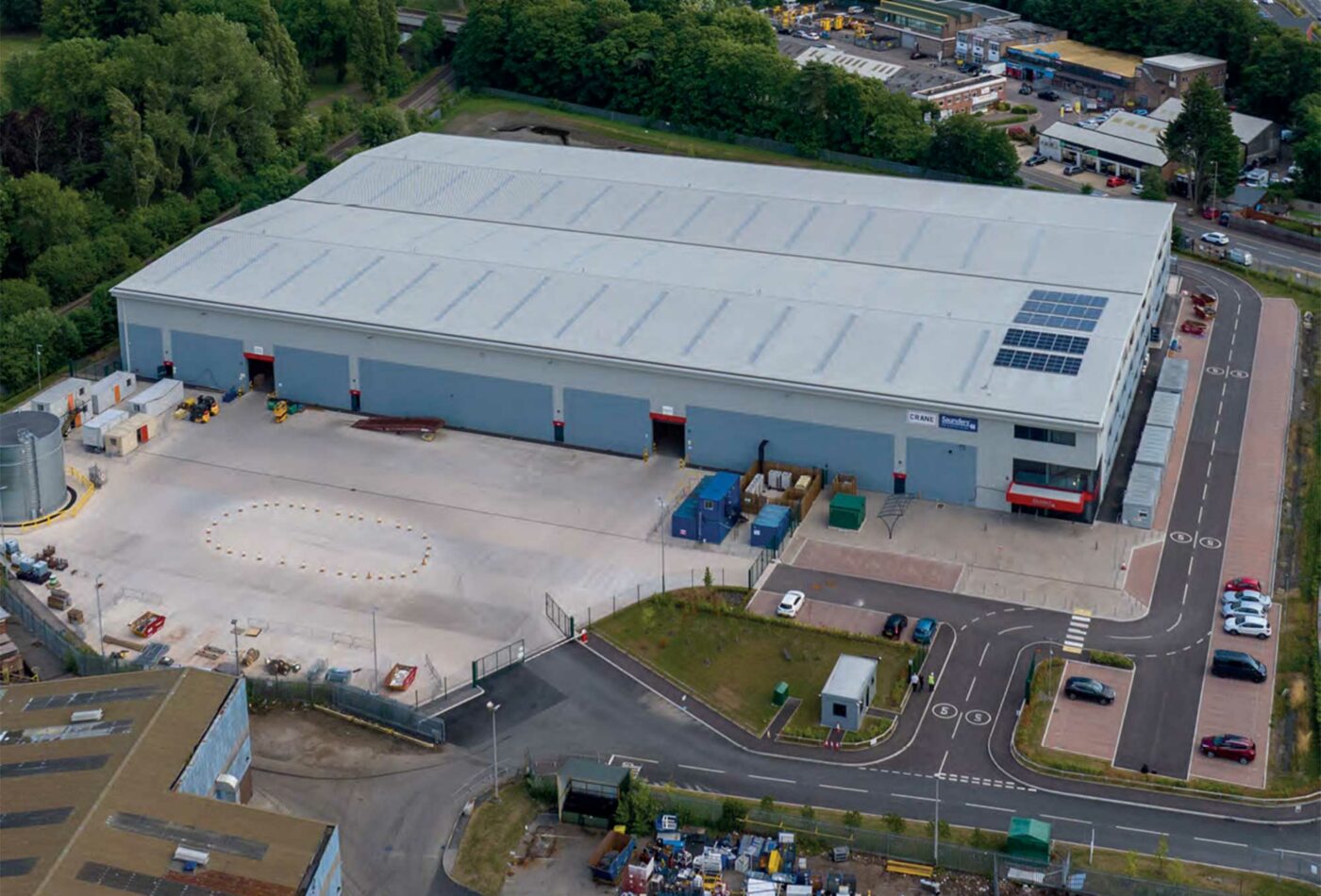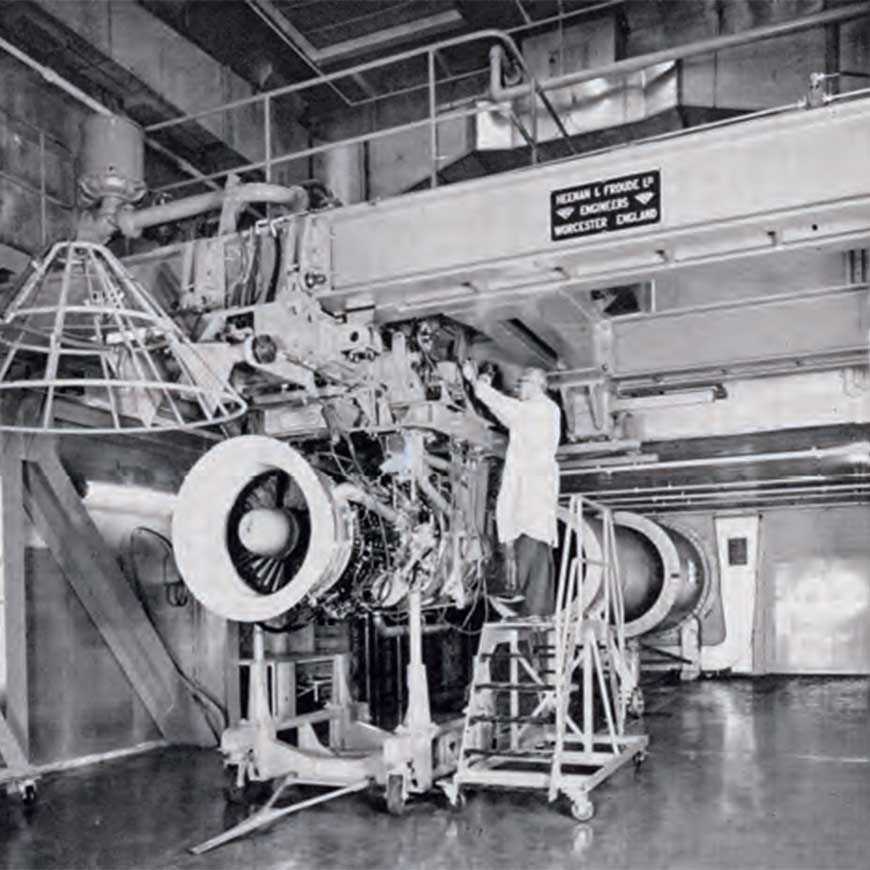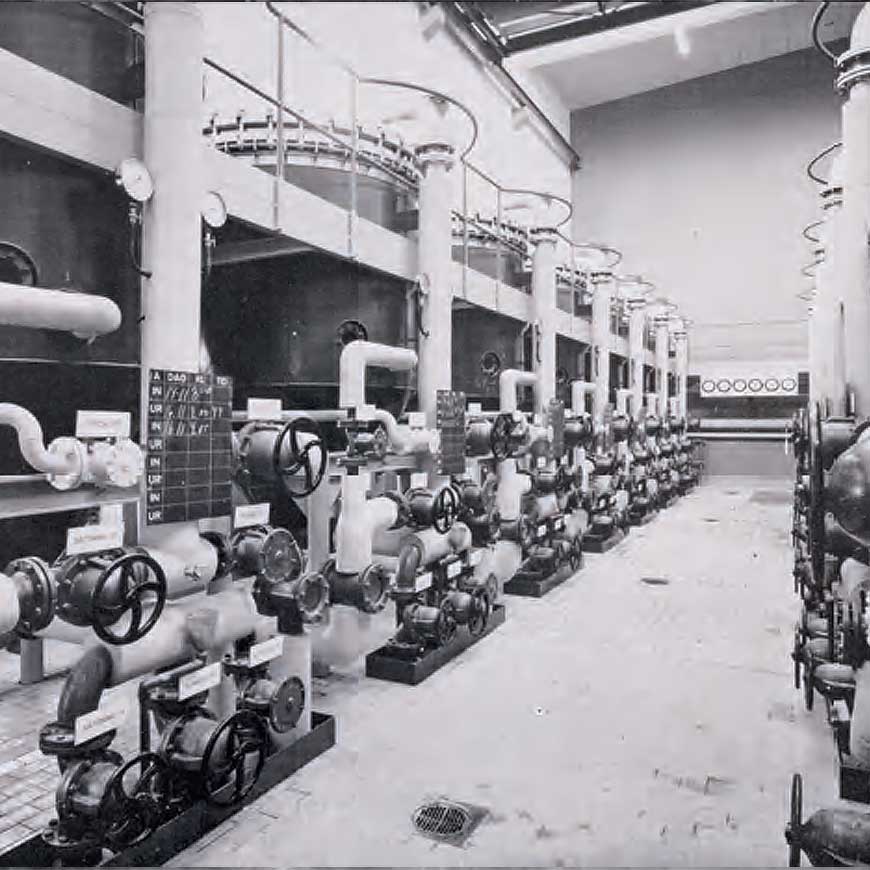 A smooth flowing process
A project of this magnitude required a smooth strategic approach to deliver to the highest standard and well within time, a razor sharp approach to organisation and planning was of particular importance, as much of the consultation took place transatlantically, with key stakeholders situated across several timezones. Sauce started collaborating with the Crane / Saunders® team in March 2023 to plan the execution and delivery of the project to a completion of November 2023, to which Sauce delivered on time:
A total of 1500m² of print
16 large format mural applications
103 vinyl wrapped edge panels
over 15m of architectural wrap
20 internal standoff acrylic panels
a comprehensive external and internal wayfinding system
9 exterior branded flags & 6m posts
welcome installations including monoliths,
comerrative displays, exterior branded flags & posts
multiple stainless steel internal and external flat cut lettering & built up signs
a principle sign to the entrance set to a powder coated aluminium sign tray
Supersizing Saunders®
Moving into the main facility, where research, product development and testing take place. The sheer enormity of the space, lent itself for the perfect opportunity to create some supersized installations, the largest of which was some 63 metres wide & 7 metres high. Several large format graphics were printed resulting in an approximate total 1500m² of printed vinyl. Display installations were fitted all around the production atrium, the largest of which were applied the the main upper floor outer wall, and the R&D and material testing labs.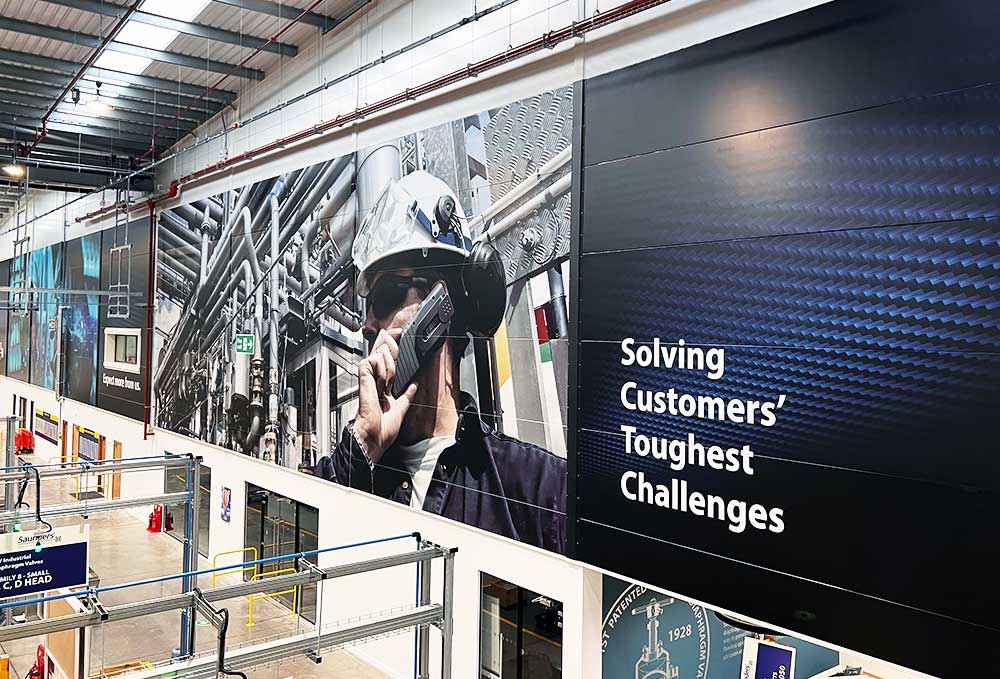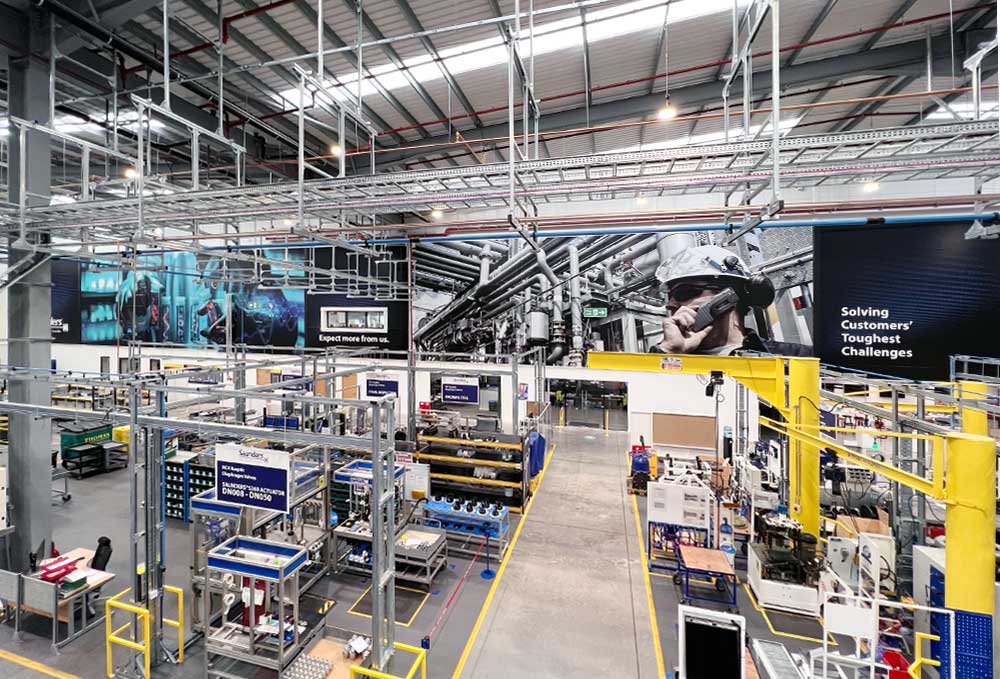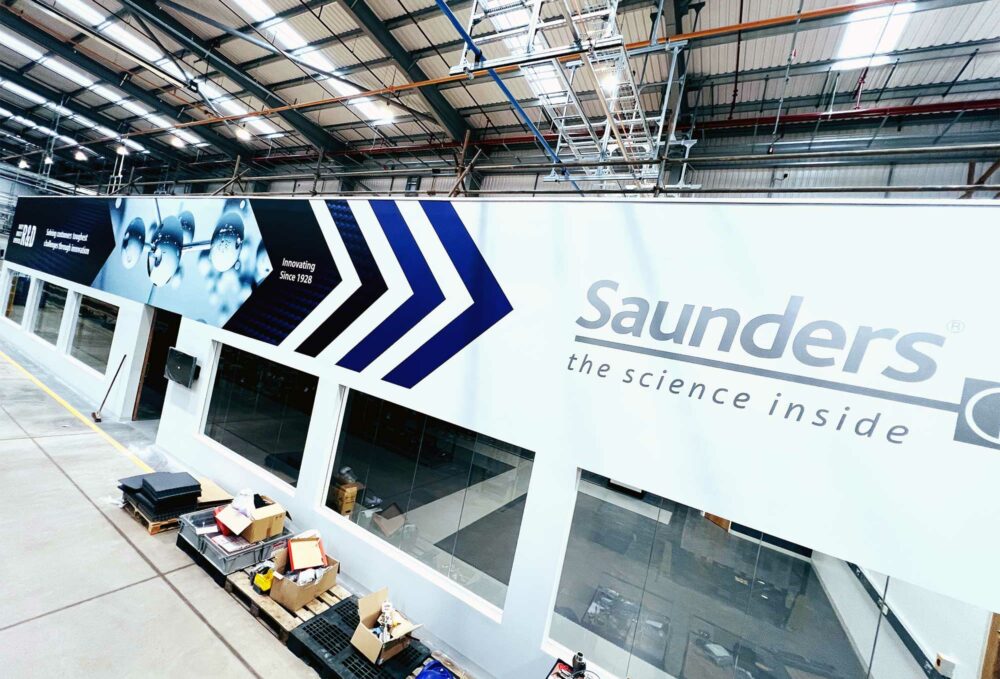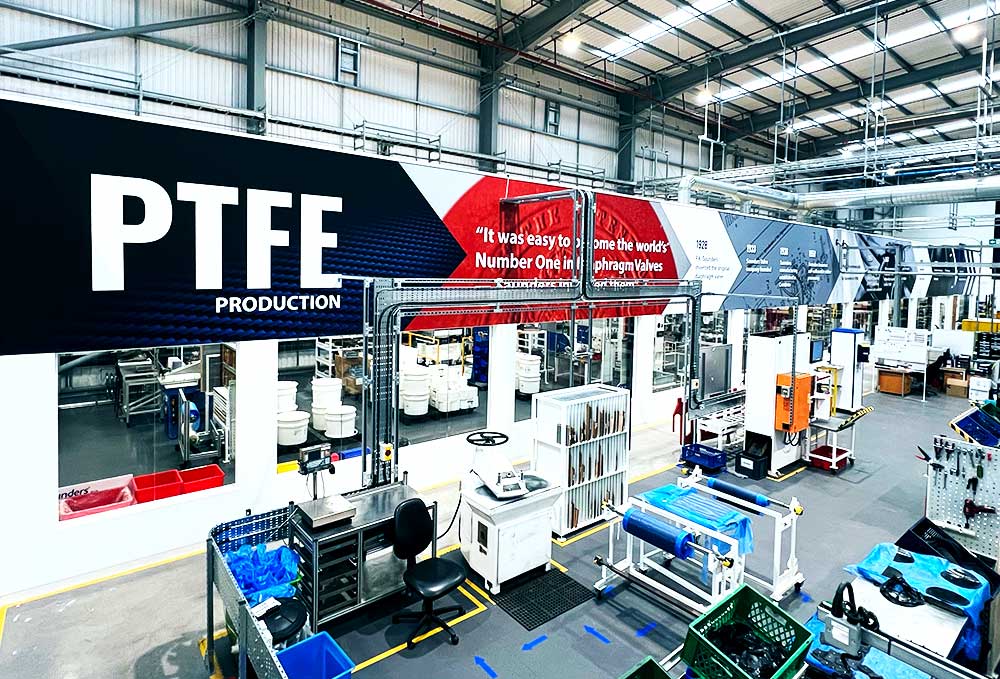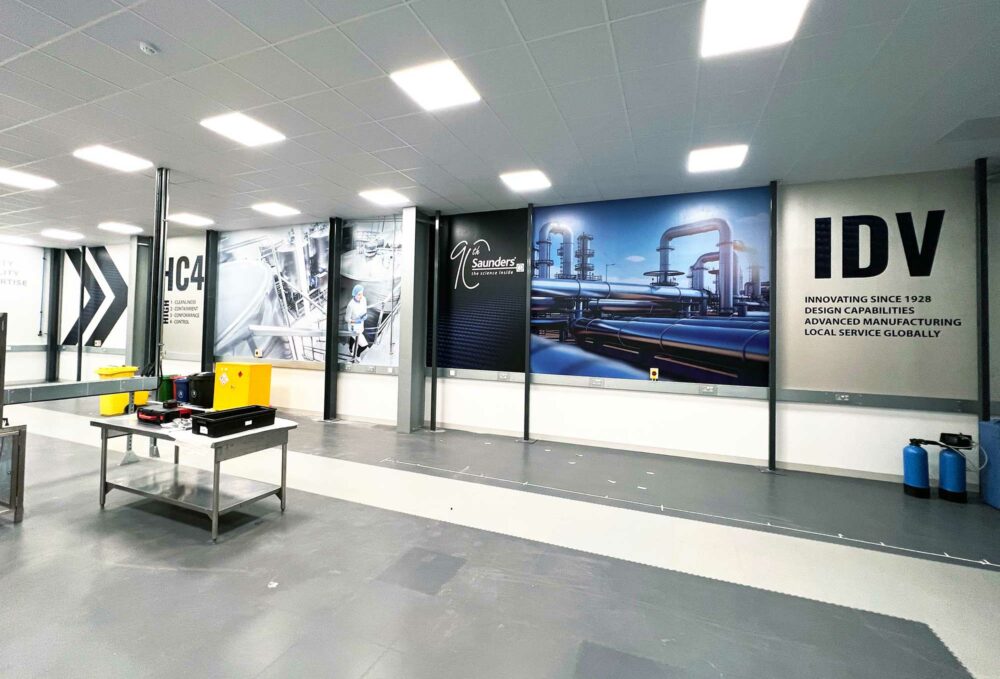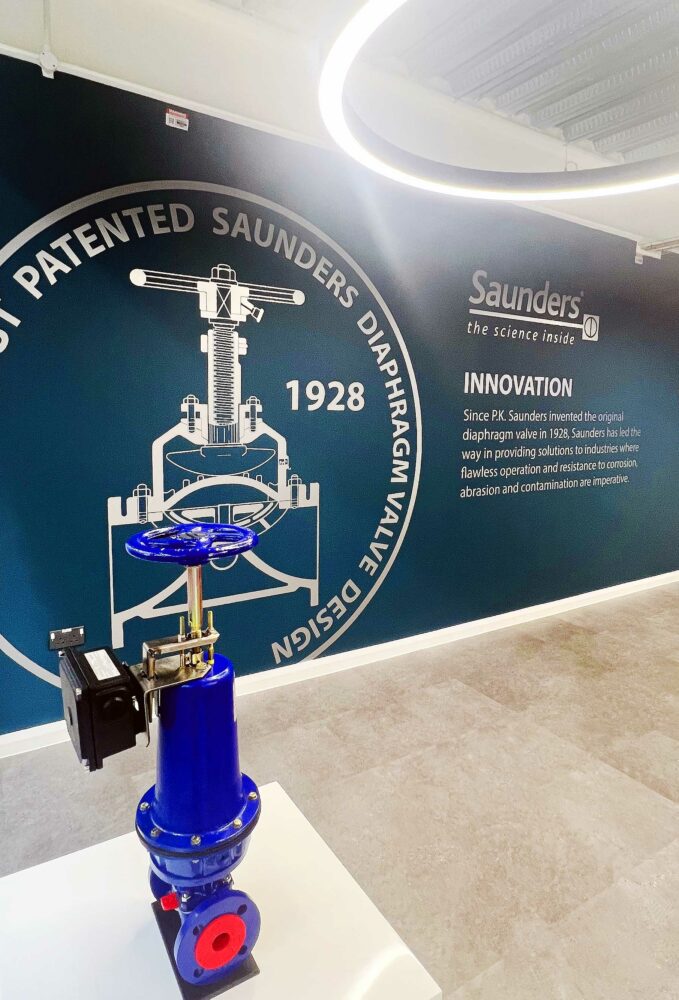 Introducing innovation
To the interior Sauce created and installed a wide range of display solutions that showcases the innovation and heritage of Saunders®. From large format vinyl displays set to feature walls to numerous small format pieces including; vinyl wrapped panels, Perspex standoff wall plaques and cut vinyl messaging and wayfinding systems. The finished result added informative installations to the concourse, visitor centre, meeting rooms, hallways, and offices to create an engaging environment for both visitors and the Saunders® team alike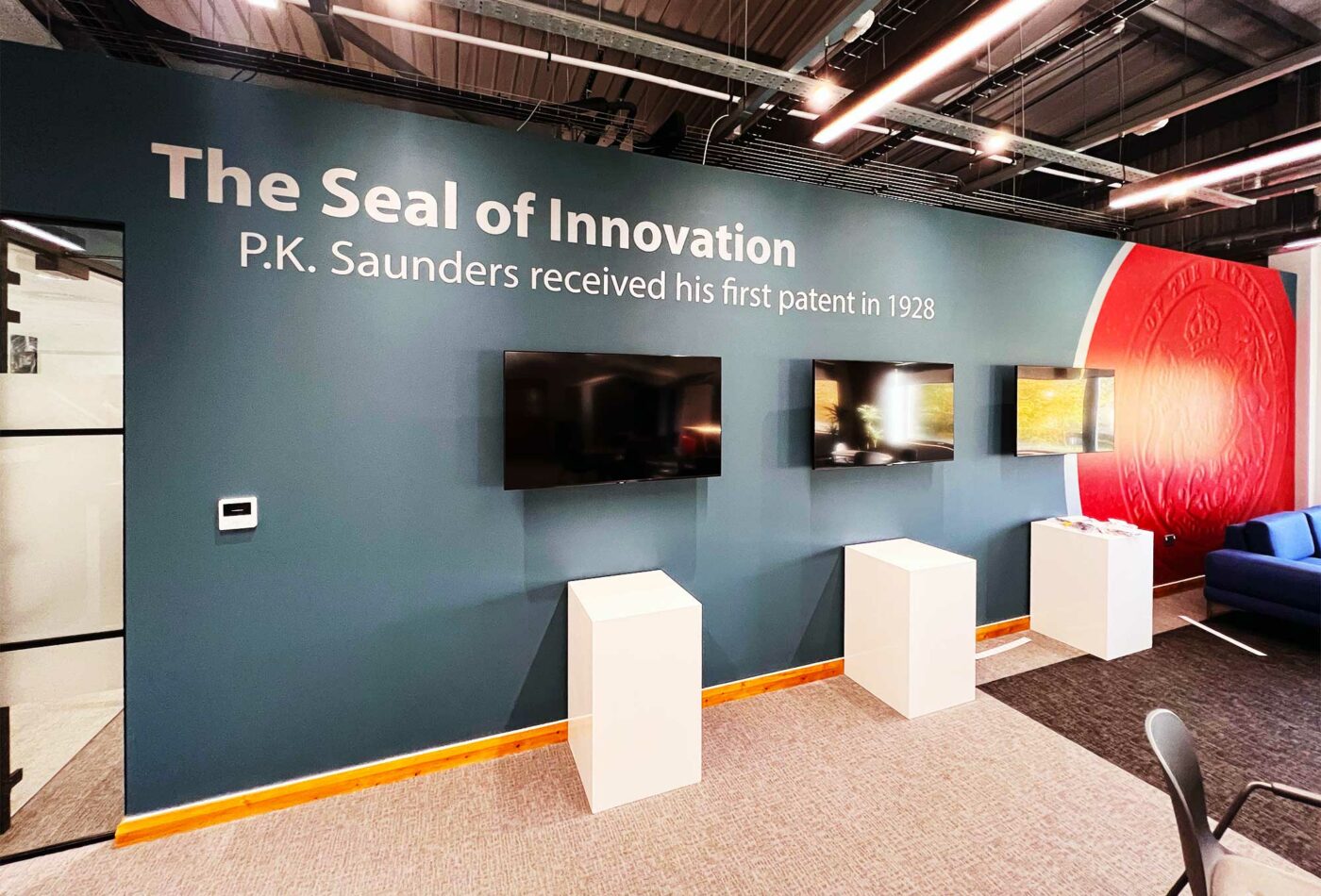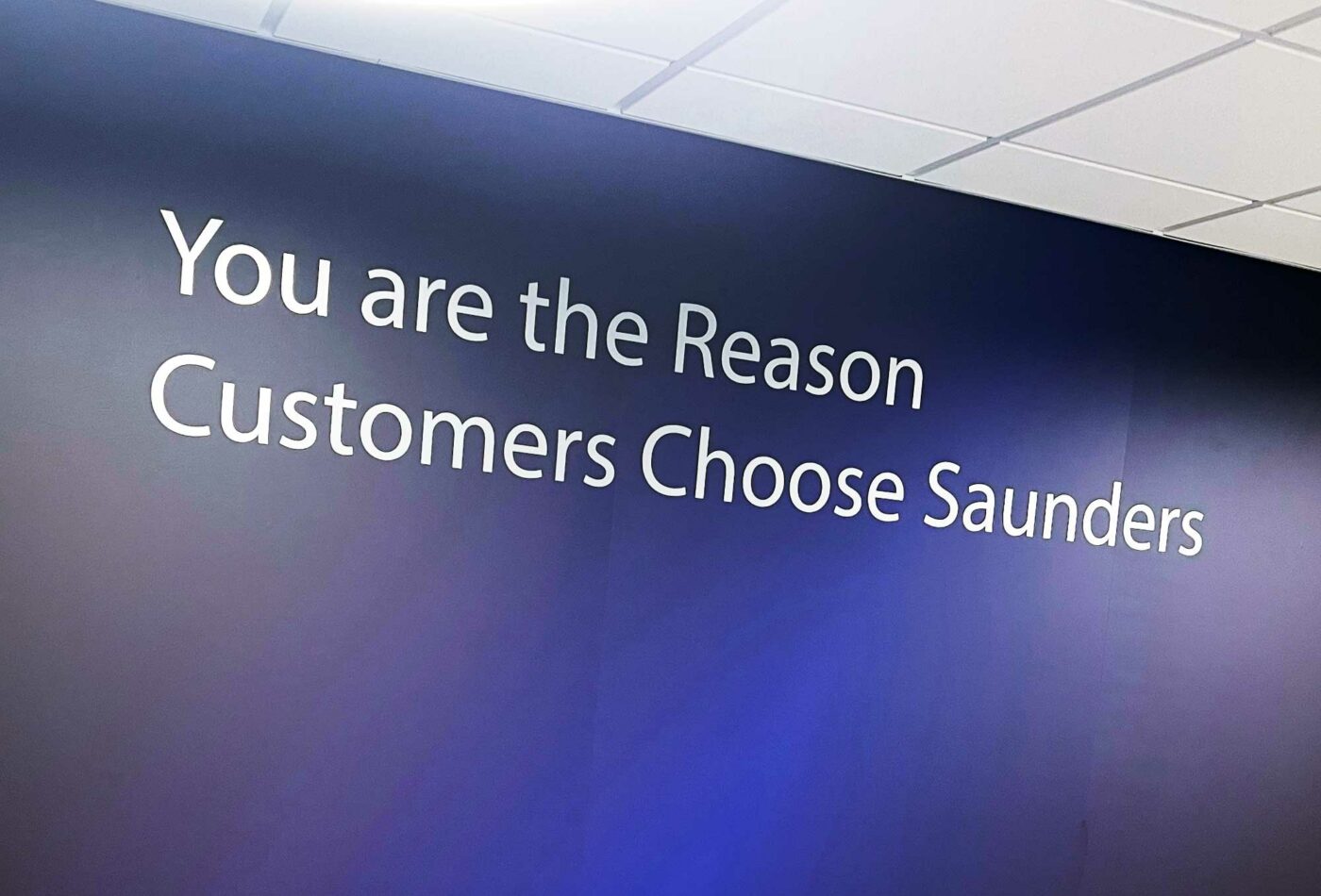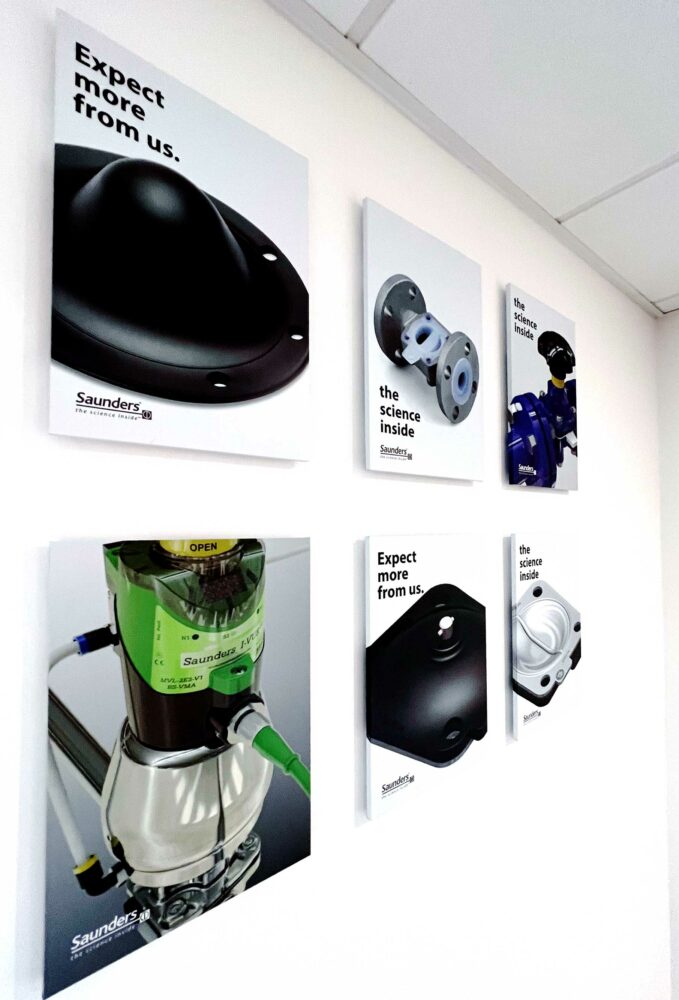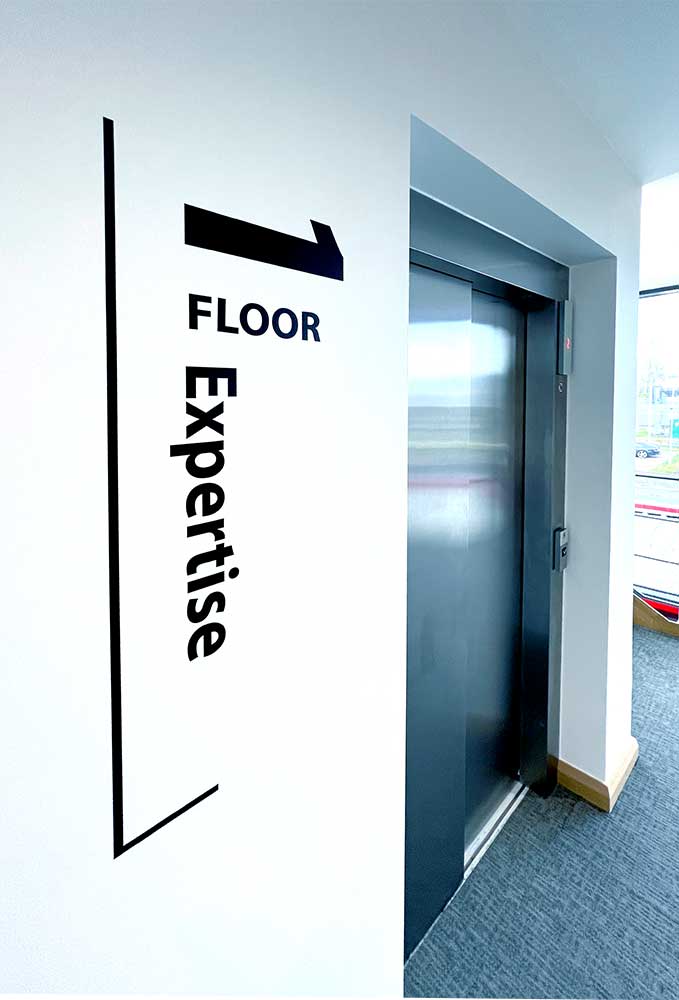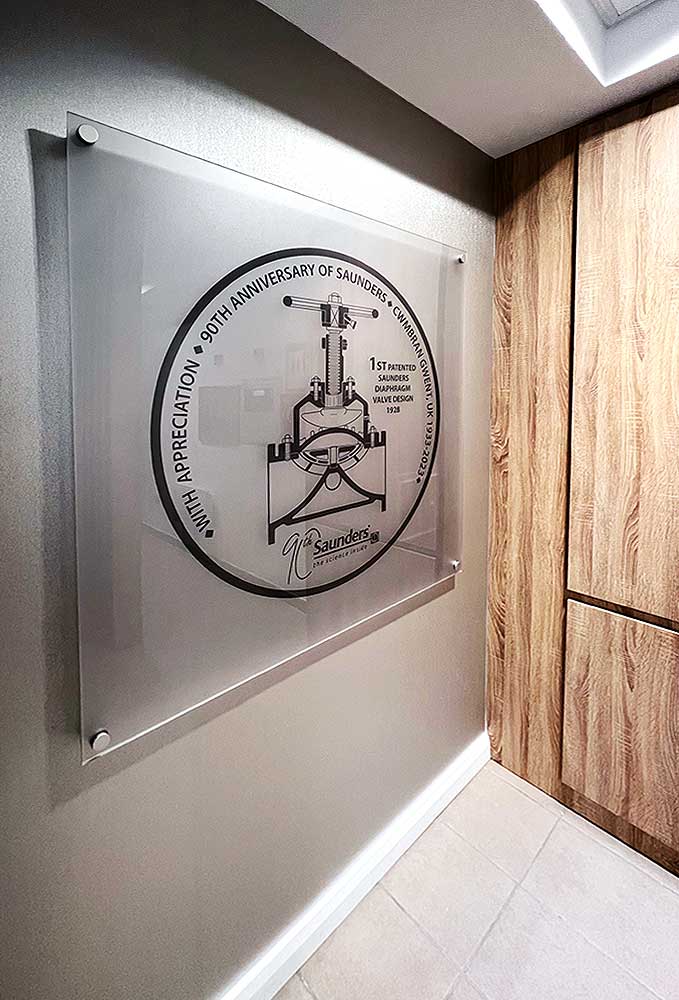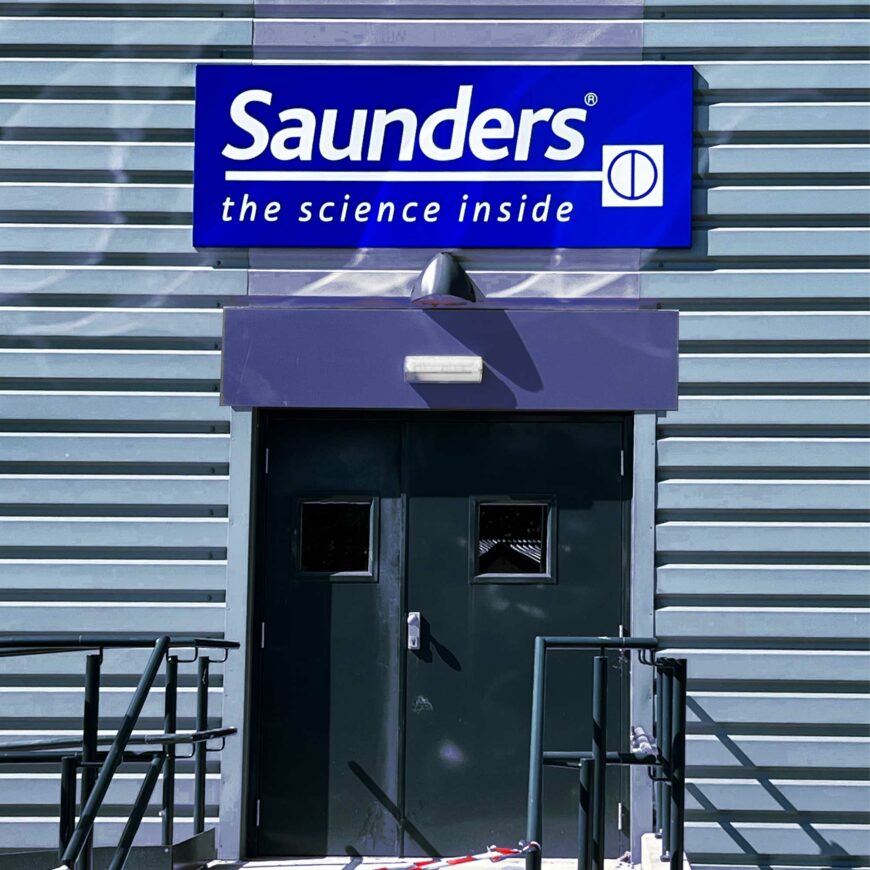 Making an entrance
We crafted and installed numerous signage and display solutions to the exterior of the new Saunders® facility to really create impact and instill the quality, and sense of pride that Saunders® have for the heritage of the company. In the approach to the entrance visitors are greeted with a commemorative installation that marks the 90 year milestone that Saunders® has reached through continued innovation. Sauce produced and fitted several signs including flat cut acrylic lettering and hand crafted built up aluminium letters. The fringes of the entrance are lined with 9 branded statement flags and posts to welcome visitors to the facility.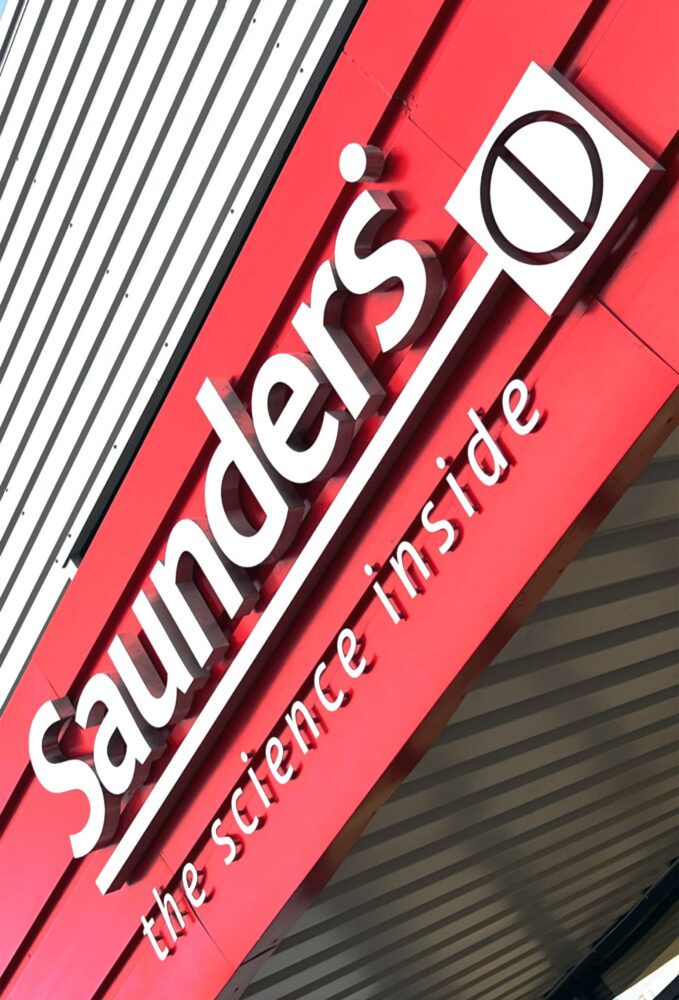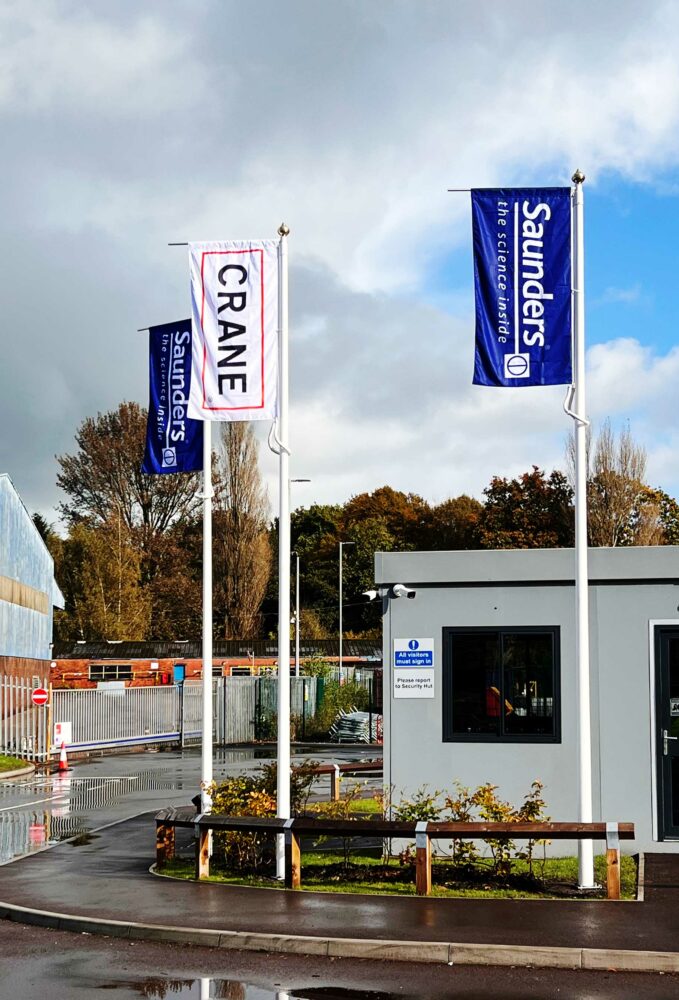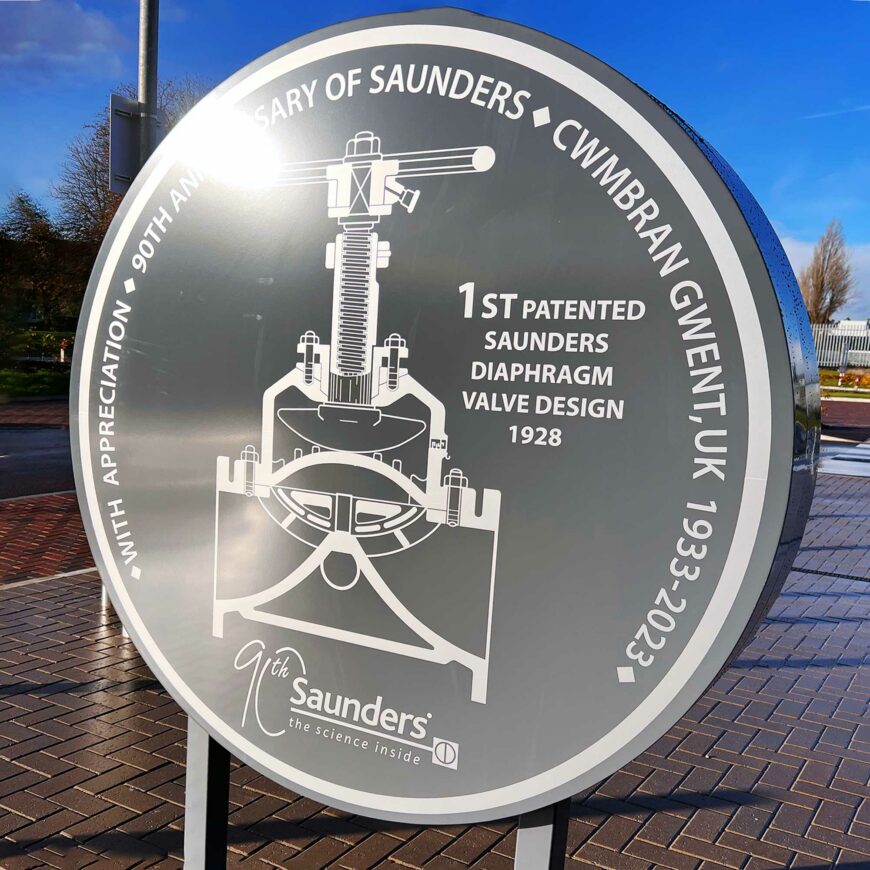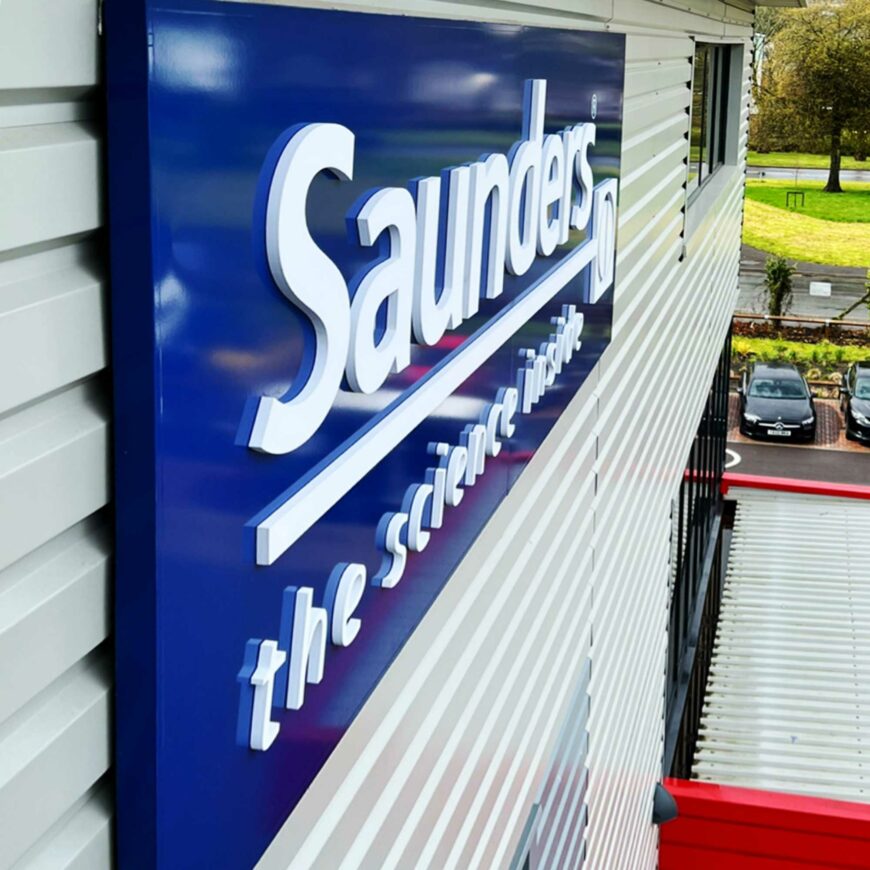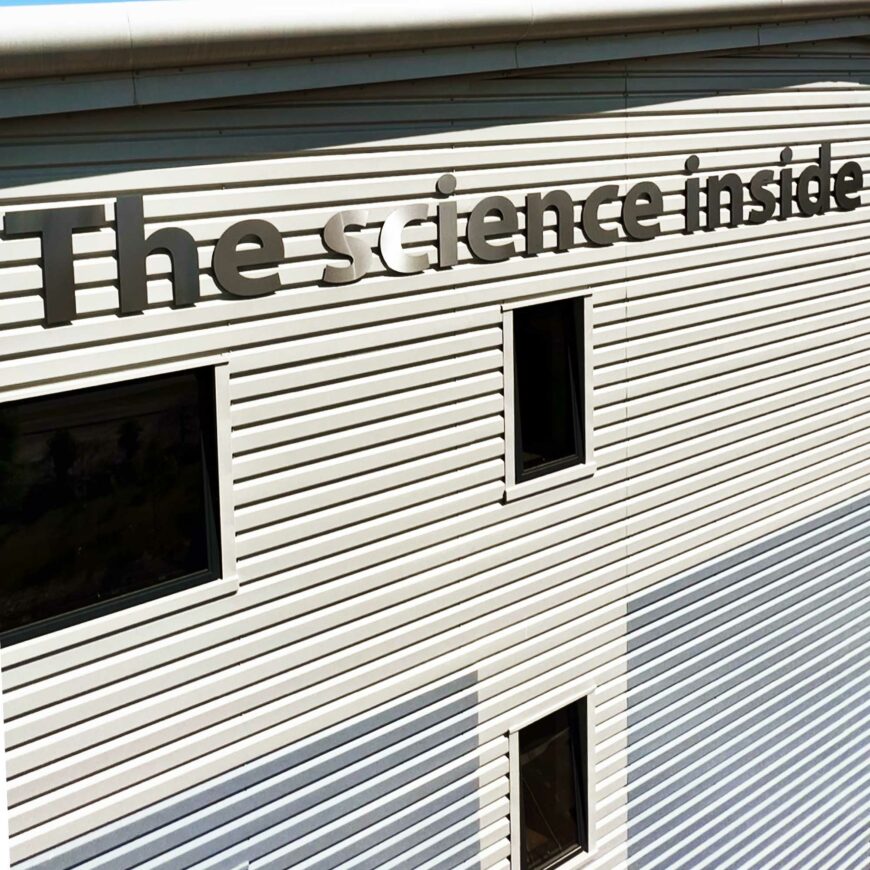 Get a quote
See how we can help you with your branding or signage project
Call us on 02920 361 848 to discuss your project
Request a quote online
Request a quote